Korey Cooper (born Korene Marie Pingitore; July 21, 1972) is the keyboardist, rhythm guitarist, and backing vocalist for the Christian Rock band Skillet. Her husband John Cooper is the lead singer and bassist of the band, as well as one of the founding members. She has made contributions as a backing vocalist in addition to guitars and keyboards.
Before joining Skillet, Cooper was a member of the band Alkeme along with now-former Skillet band-mate Lori Peters, her sister, and others from her church.
Korey joined Skillet in 1999, between the albums Hey You, I Love Your Soul and Invincible.
Personal life 
[
]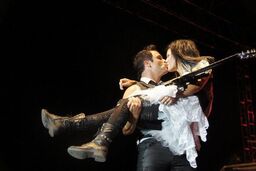 Cooper and husband John have tattooed wedding rings on their fingers, instead of the 
traditional jewelery bands. They have two children; Alexandria (born 2002) and Xavier (born 2005). Korey started playing guitar on stage with Skillet in 2003. She learned how to play about 4 months prior to that date. Other guitarists substituted for her when the children were born. Cooper and her husband have co-written many of Skillet's songs.
Vocals
[
]
See: A List of Vocal Contributions by Korey Cooper
Korey was considered a co-vocalist before the arrival of Jen Ledger, and has since only contributed backing vocals, though she will continue to sing her lines live in songs she sang in studio.
She sings on Skillet's albums "Alien Youth," "Ardent Worship," "Comatose," and "Comatose Comes Alive."
Songwriting
[
]
Korey has co-written many of Skillet's songs, including Hero, Not Gonna Die, and You Are My Hope.